design, photography, video, animaiton, internet, flash
Browsing the archives for the Hmmm category.
The epitome of the American male. He radiates confidence in everything he does, whether it's ordering a drink, buying a set of wheels, or dealing with women. He's slow to anger, brutally efficient when fighting back. The badass carves his own path. He wears, drives, drinks, watches, and listens to what he chooses, when he chooses, where he chooses, uninfluenced by fads or advertising campaigns. Badass style is understated but instantly recognizable. Like a chopped Harley or a good pair of sunglasses: simple, direct, and functional.
A giant hole in Guatemala swallowed more than ten houses on Friday. This huge sinkhole is said to be more than 100 meter (330 feet) deep, it's located in a poor district of Guatemala City.
Residents say the big hole suddenly appeared. The earth started shaking and loud noises were heard, several houses collapsed into the sink hole but no one got hurt. Locals say the air which arose from the hole smelled bad, just like a sewer.
Initially, a man and two teens were missing but according to BBC News they turned up later.
According to Guatemala City officials the hole was caused by leaking sewer pipes, which eroded the earth.
Guatemala City's major Alvaro Arzu says the sewers will be repaired and help will be offered to those affected.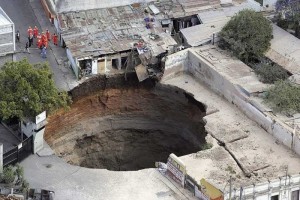 » https://www.cia.gov/library/publications/the-world-factbook/geos/pc.html
Pitcairn Island was discovered in 1767 by the British and settled in 1790 by the Bounty mutineers and their Tahitian companions. Pitcairn was the first Pacific island to become a British colony (in 1838) and today remains the last vestige of that empire in the South Pacific. Outmigration, primarily to New Zealand, has thinned the population from a peak of 233 in 1937 to less than 50 today.